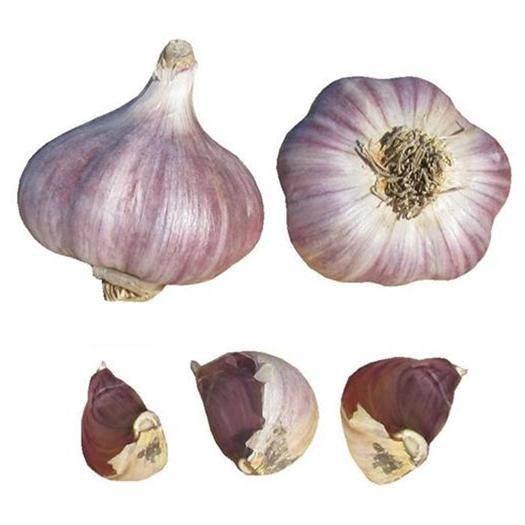 Russian Red
Available starting Mid-August
Shipping starts early to Mid-September
Also available as BULK GARLIC (per lb)
Discounts

 
Save 5% (orders over $99) - Use code Bulk5 at checkout
Save 10% (orders over $249) - Use code Bulk10 at checkout
Save 16% (orders over $749) - Use code Bulk16 at checkout

We offer Flat-Rate Shipping. Same price no matter the order size.
Description
An Eastern European treasure that is fiery with a mellow and smooth aftertaste. It has heat when eaten raw and a wonderfully rich, complex garlicky flavour when cooked. This variety of Russian Red comes from the Purple Stripe garlic family and is known for its impressive hardiness.
Russian Red is high-yielding when grown in rich soils with adequate moisture. It thrives in Canada's cold climate and explodes out of the ground in spring. Generally tolerates wet soil conditions fairly well.
Plants are medium-sized with slender leaves and can grow very large bulbs under ideal growing conditions. Each bulb has 8 to 10 medium-sized cloves. 
Bulb colour ranges from slight pinkish with purple tones to strong purple stripes depending on local growing conditions. 
Bulb wrappers are fairly tight which makes for good storage. Keeps for 6 to 8 months.
It is important to note that Russian Red is from the Standard Purple Stripe Family and is different from Red Russian which is from the Marbled Purple Stripe Family. Russian Red has more cloves per bulb ( making planting more economical) and a stronger flavour allowing fewer cloves to be used when cooking. It also stores slightly longer due to tighter wrappers. Both grow similar-sized bulbs under optimal growing conditions. 
Garlic is a heavy feeder. For best results, apply a well-balanced organic fertilizer at planting and in spring. Planting a green manure cover crop the season before growing garlic is also recommended. 
See our Garlic Growing Guide for detailed planting and growing instructions.


Highest Quality Standards
Our premium garlic is carefully examined throughout the season, from planting to harvest. Cloves, plants and bulbs are all individually inspected to maintain the highest quality seed stock available!